I make big machines move for an audience of millions.
I've designed and programmed machines to fly Billie Eilish, fly over Keith Urban and Kane Brown, and fly around the Guardians Of The Galaxy and Taylor Swift. I've driven a life-size Transformer, and driven development of new stage automation systems. Currently, I work as a consultant for entertainment equipment manufacturers, develop custom automation software, and program touring shows.
I can teach you how to do it, too!
Photo credit: Matty Vogel
Billie Eilish "When We All Fall Asleep" world tour
As head of automation, I worked with Cour Design, Gallagher Staging, and PRG to design the motion, and to select the best automation products for the show to meet both US and EU safety standards. On tour, I was responsible for adapting the rigging & programming to a wide variety of spaces, helping PRG/VER develop the risk assessment and safety protocols, and flying Billie every show.
"That aforementioned framed bed that's suspended above the stage comes into play multiple times throughout the performance, too, but some things are best experienced rather than spoiled." 
Forbes
Kane Brown "Worldwide Beautiful" world tour
To execute the tightly-coupled integration between automation and lighting in Trevor Ahlstrand's design, I programmed the show in a combination of Kinesys K2 and Exato. The show featured multiple intersecting lighting pods with 3D information fed to the lighting console, and a performer flying stunt to kick off the show.
"Kane Brown descended to the stage on a rope, singing "Lose It," for the start of his show at Times Union Center on Friday night, a flashy entrance harkening back to the late 1980s when David Lee Roth would rappel to the stage from a rope suspended from the ceiling." 
The Daily Gazette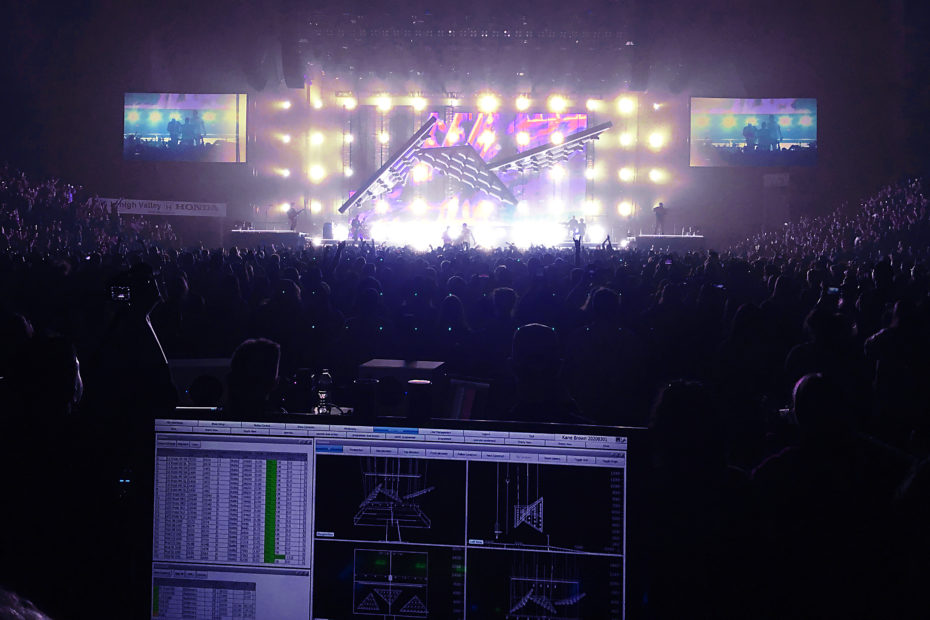 Keith Urban "Graffiti U" world tour
As a last minute addition, the tour added a Kinesys automation system to the tour, and I took on the show to reprogram and previsualize it in K2, and travel as the head of automation and operator. Fragment 9's design featured a diagonally-hung PRG Spaceframe LED wall, which required careful and precise automation programming to smoothly and safely fly it in a variety of venue sizes.
Intersect featured a festival-style stage and interactive play exhibit that both included automation. To maximize the potential of the festival's automation with the vast number of acts, I worked ahead of the show with the programmers to design and previzualize automation looks, so we could safely busk live during the performances. The interactive area used Exato to communicate with the lighting console for triggered effects.